Welcome to Indie Goes Software!
If you are looking for inspiring content, you found the right place!
This site presents our activity, dedicated to creating mobile apps (for iPhone, iPad, Android and Amazon) related to oracle cards, guided meditations, spirituality and self-development. Our goal is to use latest technology to promote helpful and profound content to people.
You can already browse our complete apps catalogue, and get free oracle cards readings and guided meditations on our site! They are already available on many mobile platforms, and new products will be released regularly.
We hope you will enjoy your visit. Have fun!
The "Indie Goes" team
---
Join our new Facebook group!
We created a new Facebook group, so people can meet our authors, share readings and read inspiring content. Our goal is to build a nice and positive community, for oracle cards and guided meditations lovers!
To subscribe to the group, please visit it here:
https://www.facebook.com/groups/indiegoesapps
We are looking forward to meeting you there. See you soon!
Lastest news: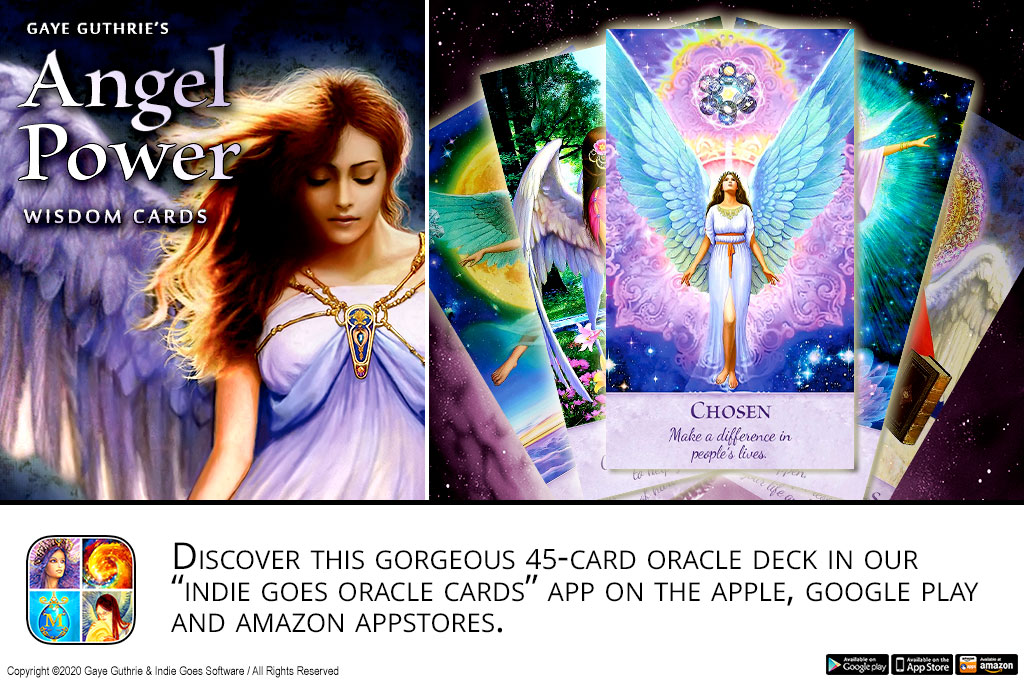 During those challenging times, we need angelic energies more than ever! 🙏 That's why we are very happy to announce our third deck made in collaboration with Gaye Guthrie: Angel Power Wisdom Cards. Try it now for free in our Indie Goes Oracle Cards app.
(if you already have the app, please update it to be able to access this new content)
About the deck: The Angel Power Wisdom Cards offer guidance, hope, comfort and angelic insights into the now, past and the future. When you tap into the magic and miracles of the angels, anything is possible.
The Angel Power Wisdom deck was designed to inspire, uplift and empower you to believe in yourself and follow your dreams to be happier and healthier. The cards are used for personal development and spiritual learning as you navigate your way through life's challenges and joys. They remind you to maintain faith in yourself and the angels, and know that you are not alone.
Guiding is what the cards are designed to do. Beyond that, it is your own decision whether to follow through on that guidance or not. The cards work with pure intent, honesty and love as they accurately guide you to answers within the mystery of life.
The Universe works in mysterious ways so the timing of events may work sooner than indicated or you may have to wait a little longer as the Universe rearranges itself to bring about your desires.