Welcome to Indie Goes Software!
If you are looking for inspiring content, you found the right place!
This site presents our activity, dedicated to creating mobile apps (for iPhone, iPad, Android and Amazon) related to spirituality and self-development. Our goal is to use latest technology to promote helpful and profound content to people.
You can already browse our complete apps catalogue, and get free oracle cards readings and guided meditations on our site! They are already available on many mobile platforms, and new products will be released regularly.
We hope you will enjoy your visit. Have fun!
The "Indie Goes" team
---
Join our new Facebook group!
We created a new Facebook group, so people can meet our authors, share readings and read inspiring content. Our goal is to build a nice and positive community, for oracle cards and guided meditations lovers!
To subscribe to the group, please visit it here:
https://www.facebook.com/groups/indiegoesapps
We are looking forward to meeting you there. See you soon!
Lastest news: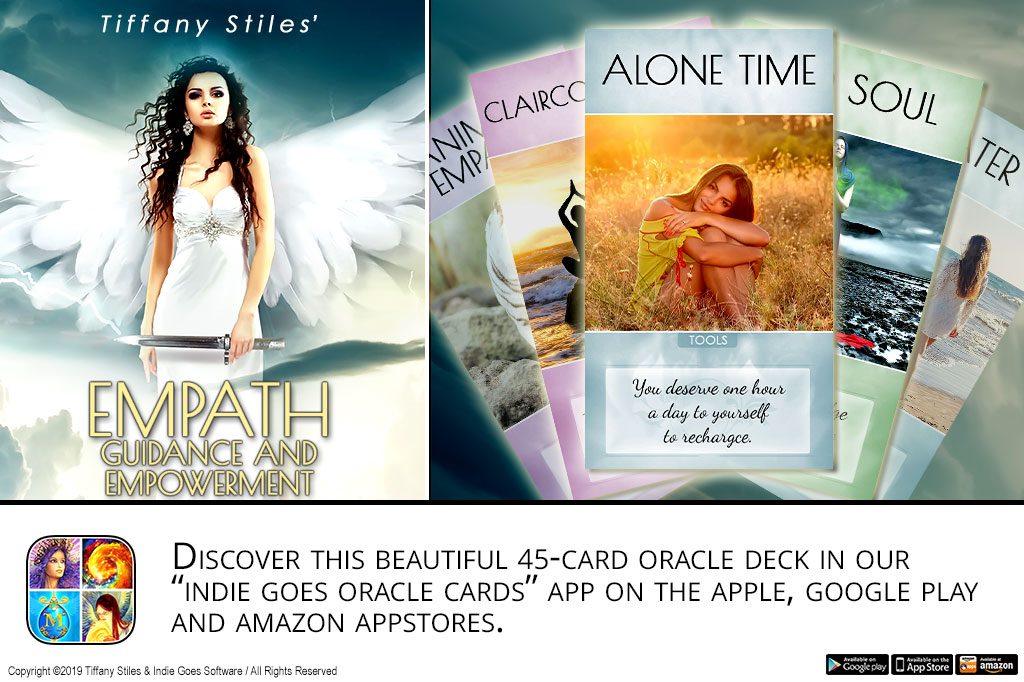 Today we are very happy to announce the release of a new deck, made in collaboration with Tiffany Stiles: the Empath Guidance & Empowerment Oracle Cards. If you are a sensitive and intuitive person, and want to understand and enhance your skills, you will love this deck! Try it now for free in our Indie Goes Oracle Cards app.
About the deck: The Empath Guidance and Empowerment Oracle Cards were designed by Tiffany Stiles to provide specific tools, guidance, empowerment and teach Empaths about the gifts and abilities they may possess. Whether you are seeking answers for yourself, your loved ones, or clients you do Oracle Readings for, these cards are designed to yield valuable insights that will assist you on your life path and journey as a healer.
The Cards will empower you with tools and techniques that are specifically designed for Empaths to teach you how to not only survive, but thrive in the energetically charged world that we live in. The Empath Guidance and Empowerment Cards will give you the confidence you need to step outside of your comfort zone and begin using your gifts and abilities in service to others. These cards work with The Law of Attraction to give you, your clients, or loved ones the best guidance for their highest good.
About the author: Tiffany Stiles is a Metaphysical Life Coach. She is a Psychic, intuitive Empath. A reader, feeler and healer with energy. As a truth seeker she is committed to sharing her experiences with the world to assist others. In counseling Empaths for many years, Tiffany was guided to create the Empath Guidance and Empowerment Oracle Cards to assist Empaths on their life path and journey as a healer. Tiffany has been sharing her Energy Reports for years to guide Empaths, and energy sensitives so they may be prepared for what type of energy comes our way at any given time. Connect with her on Facebook: https://www.facebook.com/tiffany.stiles.7